InterStudies Guardianship
Sending your child abroad to study is a major decision, and access to reliable, experienced, local support makes this a less daunting prospect for both parents and child. With a proven track record and more than 20 years experience in this field, we take our responsibilities very seriously, offering a high level of care and support to the students we look after and peace of mind for their families overseas.
Our flexible range of Guardianship Programmes are offered nationwide through our dedicated support team made up of local support coordinators, our Student Ambassador and our caring and experienced head office team. All our programmes provide the best possible care and support for your child ensuring their welfare and well-being is our top priority. Alongside this we look after your needs as a parent; we know how important it is that you have trust in us to look after your child and to provide you with a high level of service.
We work with a network of carefully selected host families, who are dedicated to making your child feel welcome and comfortable ensuring a caring home away from home during school holidays.
Educational
Excellence
in the UK
Standard Guardianship
Our Standard Guardianship Programme provides access to comprehensive support network for your child at a very competitive price. Our dedicated support team and local support coordinator are on hand so parents are safe in the knowledge that their child has the benefit of someone local to contact whenever they need to. Additional services and excursions during half term breaks can be selected as required from our menu of additional services
Classic Guardianship
Our Classic Guardianship programme includes a wide range of services, all designed to offer each of our students dedicated local help and support to assist them in best achieving their full potential while studying abroad. We recommend this programme for students staying for a full year or longer. The Classic Guardianship programme access to our full service support network. Excursions during half term breaks can be added as and when required.
Premier Guardianship
Our Premier Guardianship is designed for those, who are looking to give their child the best possible support combined with an extra cultural dimension. In addition to our high quality support services , the Premier programme includes two half term excursions with other international students.
Expense account
For those on Classic and Premier Guardianship programmes we open an expense account. This facilitates a convenient and easy payment system by which we hold and administer a deposit account for any expenses occurring during the programme.
The account is used to pay for anything requested, which is not already covered by the school or guardianship fees. The funds belong to you/your parents, and will only be spent with parental permission.
Examples of charges paid through an expense account:
– Host family accommodation
– Transfers and taxis
– School bedding if needed
– School excursions
– Pocket money
– Holiday Guardianship (when/if applicable)
– Additional visits/meetings (if applicable)
When opening your account, we require a deposit, and during the term we require a certain balance in case of sudden expenses. Should the account balance fall too low, a statement and request for a top up will be sent. A full statement will be provided at the end of each term.
At the end of the guardianship programme we will return any remaining balance after deducting any outstanding charges, such as transfer costs.
Options and fees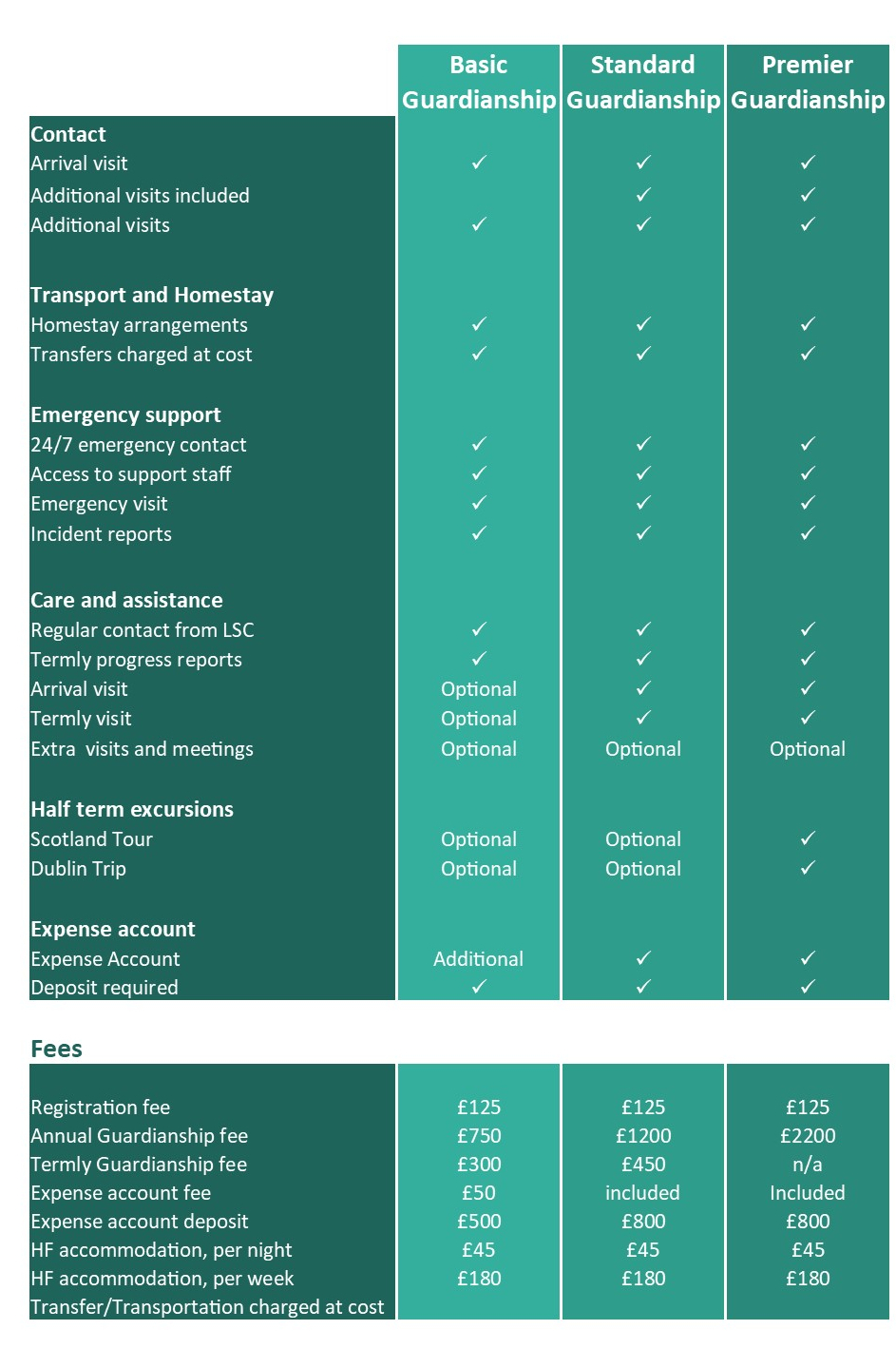 For a full list of fees and charges please contact us guardianship@interstudies.com