In Ireland with Hannes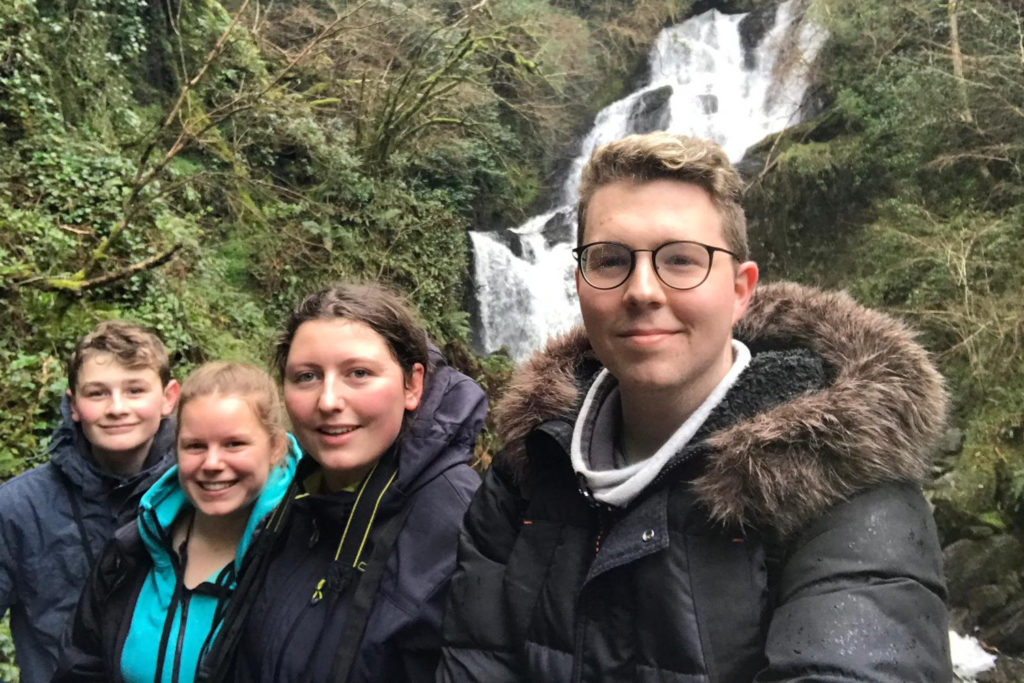 My exchange year adventures in Ireland from Hannes.
I thought a long time ago about how to start this blog about my exchange year.
I'm starting with the questions why I decided to make this experience and why I chose Ireland.
I decided to make this experience to improve my English knowledge! After I succeed my junior cert I went to a technical Highschool where English is very important. I realized after a few lessons that my English isn't that good as that from other people. So I started with extra studying after school. But it was very slow and you can't repeat everything what happened in 8 years.
While I was in class 11 I worked in a small cafe in my village where I became friends with Franziska. She came back from her exchange year in America and couldn't stop talking about it.
The idea was born to make an exchange year because it made absolutely sense in my mind that it's the only way to improve my English because you're in an English speaking country and you have to speak English without any excuse.
I went to a few interviews and preparation camps before I left Germany. Because of my age of 18/19 years Ireland was the only possible country for me!
I watched a few videos about exchange years and what I needed to pack for one year in exchange.
I think it was the biggest fail ever.
I've packed sun-blocker, sunglasses, swim suit and I forgot my rain gear and my umbrella. Everything that is essential for the Irish weather I left at home!



My flight was on the 23th of August 2018 from Bremen over Frankfurt to Dublin. The first 3 days I had another preparation camp where I met my Irish Organisation InterStudies.
After the last chats and advises we were separated into two groups, Galway and Cork. The ride to cork took 3 nearly 4 hours. We were sitting in the bus and some students were scared but I couldn't believe that I'll meet my new family in the next few hours.
My first impression happened after my hostdad Dermot picked me up from the Bus and gave me a ride to my new home.
I started directly with a conversation about his car and how weird it is that the steering wheel is on the right hand side. I had my driver license in Germany and that's the reason why it felt even weirder that the traffic is on the other side of the road.
After I arrived at my new home with Dermot I met my hostmum Debbi and her 4 lovely children in the kitchen. We had a quick conversation about my flight and everything. After that we went to Laura's schooluniformshop to buy my uniform for school.
The impressions after a few days?
A new family, a new bedroom, new school, new friends everything was strange. A full house everyday, with 8 people, is a bit difficult after I left Germany with half of the amount of people. But everybody was so kind at home and I felt so welcome. I met a lot of new friends in my home village Carrigaline where most of the students were placed.
"I couldn't understand my hostdad in the first few weeks so I decided after a lot of asking what he meant just to smile and hope that it wasn't a question"
I'm sharing my bedroom with another guy from the Czech Republic his name is Mikuláš. Our room is in the attic and we have our own corridor and own bathroom with a toilet and a shower which is very cool.
On the one hand Mikuláš and I are completely different but on the other hand we are sitting in the same boat (a German Adage translated in English). We are in the same school, that makes the morning a lot easier because we're taking the same bus and have nearly the same schedule.
My school is the Coláiste Chríost Rí and it's a plane boys school near at the Centre of cork and I'm in 5th year. At the first day we all had to choose our 7 subjects.
English, maths and Irish are required. I chose geography, physics, wood work and technical drawing. We also had Religion but it isn't that important at my school, we didn't have exams or something else and every 6 weeks it changed with PE. Directly compared to Germany the school here in Ireland is way easier. But the teachers are stricter. A lot of new impressions during the first weeks while my school started. School uniform and 4 times a week 9 classes. I was exhausted after the first full school week.
December
I celebrated the entire Christmas time with my hostfamily. Mikuláš took a flight home during this time and came back in January. You got the feeling of Christmas at the beginning of November cause Christmas is a very big and important thing in Ireland.
A difference to Germany is that Christmas is on the 25th instead of the 24th. A few days later was New Year's Eve which is also the date of my birthday. During the day I spent my birthday with my friends in a bowling Centre and in the evening I had dinner with my hostfamily in a restaurant in cork. I met my friends in the evening again to celebrate new years etc but Firework and all this stuff is in Ireland forbidden so we were kinda confused what we're supposed to do. We reached a few days after new year the middle of our exchange year and we couldn't belief it that 4 and a half month are already gone..
To everybody who is thinking to make an exchange year and to everybody who already know that he's doing an exchange year. Trust your LSC's, your hostfamily and your friends! You won't belief it that this year will fly over!
The next topic is our local coordinator from InterStudies. Her name is Audrey and her house is also in Carrigaline. She is the kindest person in entire Ireland and if we had any problem we could ring her 24/7. She also organized all these amazing trips with other LSC's from different county's to Scotland, Dublin and London and on top of that every month we had an organized trip to local sightseeing places. If you were sick or something happened Audrey was always the first one who looked after us.




Did I feel homesick?
No! Not at all. On the one hand I'm used to it to travel around and to be away from home for a long time, I had an exchange to England 2014 for 4 weeks and 2016 I had work experience on a cargo ship from Hapag Lloyd for 5 weeks to NewYork. One the other hand I did something different every day and spent most of the time traveling and exploring Ireland into its deepest gaps. However, you didn't even had the time to think one minute about home and whats happening their.
I didn't ask the other students about their social contact to parents and friends back in their home-countries. I mean we are generation smartphone with instagram, WhatsApp, Snapchat etc. You won't ever be completely cut off to your social contacts and to everybody. I skyped once a month with my parents to caught up with what happened here and what happened at home.. and for sure I sent pictures in WhatsApp and Instagram "ha.nnes_ha.nneken" from all the beautiful places and landscapes here in Ireland.
What did I miss while I was in Ireland?
I was used to drive a car at home and it was forbidden here in Ireland. So I had to take the bus and the bus system was a mess until January 2019. The bus always came late and sometimes it didn't come at all. But this changed and it's now one of the best bus routes because the bus is supposed to come every 15 minutes. For sure I missed my friends and family and my home village but Ireland is now after even 6 months my second home.
Actually Ireland wasn't my first choice but I'm so glad that I had this experience here! With Irish dancing, English breakfast and even the Irish weather. I now have a second family 1.500km away from my house in the north of Germany because
"An exchange year isn't just a year in your life,
it's a life in one year"
With new parents, siblings, new neighbors, new neighborhood, new school, new friends.